Culinary
Fast, Flavorful Recipes for Any Cinco de Mayo Party
April 27, 2023
WRITTEN BY: Sabrina Tillman
Article at a Glance
Cinco de Mayo is a holiday that commemorates a regional Mexican military battle against French forces but has evolved to become a much loved and celebrated day in the United States. 

From jalapeño poppers to empanadas, there's something for every taste preference.

These recipes skip seed oils and prioritize slow-cooked meats, fresh produce, and smoky peppers.

Try out these easy-to-make recipes, whether you're planning a party or a solo feast!
Introduction
Cinco de Mayo recipes should pop — with kicky salsas, smoky peppers, ripe produce, generous squeezes of fresh citrus — and provide elements of homey, slow-braised meats, marinated seafood, or savory simmered beans. Arguably, Cinco de Mayo recipes should also be portable to share with friends and loved ones, and handheld so you can nosh as you sip and mingle. We've rounded up the best Mexican-themed recipes that fit this bill to make your fiesta flavorful and fabuloso. 
Mexican cuisine combines ingredients like organs and tougher cuts of meat stewed until tender, gradually softened beans, and fire-roasted chiles with the fresh snap of sliced radishes, grassy leaves of cilantro, and sweet-spicy spoonfuls of salsas. This marriage of slow-cooked with raw and ripe flavors strikes a balance that's often overlooked when compared with brick-sized burritos and platters packed with rice and cheese-blanketed enchiladas.
While some people might not equate a Cinco de Mayo spread with healthy faire, we beg to differ. You can absolutely enjoy your favorite Mexican dishes with fresh vegetables, hearty proteins, and more — all without added high linoleic seed oils.
Fiesta Bites
Jalapeño Poppers Stuffed with Shrimp
Part lower-carb enchilada, part bar appetizer, these jalapeño poppers are crowd-pleasers you can bake in bulk. Use crab, chicken, or black beans if you prefer; just make sure you make an extra batch. 
Tostones with Mango Salsa and Chimichurri
These two-bite appetizers elevate the idea of nachos into a more sophisticated form. Pan-crisped plantain slices serve as the bed for a pile of sweet mango salsa drizzled with avocado and cilantro chimichurri. Sprinkle the tostones with crumbled cotija or feta cheese.
Seven-layer Taco Dip
Redolent of Midwestern potlucks, this seven-layer dip omits any seedy oils and browns ground beef and onions in avocado oil. Take a glass casserole dish (you want to see the layers after all) and fill the bottom with the seasoned beef, a layer of cashew cream (or sub sour cream), guacamole, salsa, shredded lettuce, black olives, and pickled jalapeños. You'll need sturdy tortilla or plantain chips to heft this meaty salad into your mouth. 
Sopes de Chorizo
This is meat and potatoes, Mexican style. Pile chorizo and pan-fried potatoes on top of sope shells then load 'em up with pico de gallo, avocado slices, crema, and queso fresco.
Air-Fried Guacamole
Hold chips and guacamole in the palm of your hand with these air-fried guac balls coated in cassava chips.
Chunky Guacamole with Feta
This dip takes a less-traditional spin on guacamole. Creamy mashed avocado serves as the bed for a salad of finely diced vegetables that's crowned with tangy, salty crumbles of feta cheese. Serve with sturdy tortilla chips or thickly cut carrot or jicama sticks. 
2-Ingredient Tortillas
Tortillas are a bland, blank canvas upon which we pile meats or slow-cooked beans, shredded cabbage or lettuce, salsas and cremas. Try making your own and you'll understand why anyone ever goes to the trouble. These golden-colored corn tortillas require only masa harina, water, and salt.
Puffed Tortilla Chips
Grain-free chips just got more interesting. Cut homemade tortillas made with almond and coconut flours into triangles and either bake or deep-fry (for more crisp without the greasy fingers, try a shallow fry in Zero Acre oil); deep-frying them gives them a crisp, puffy texture. Season with crap-free "Dorito dust" or — even better — use them to make nachos.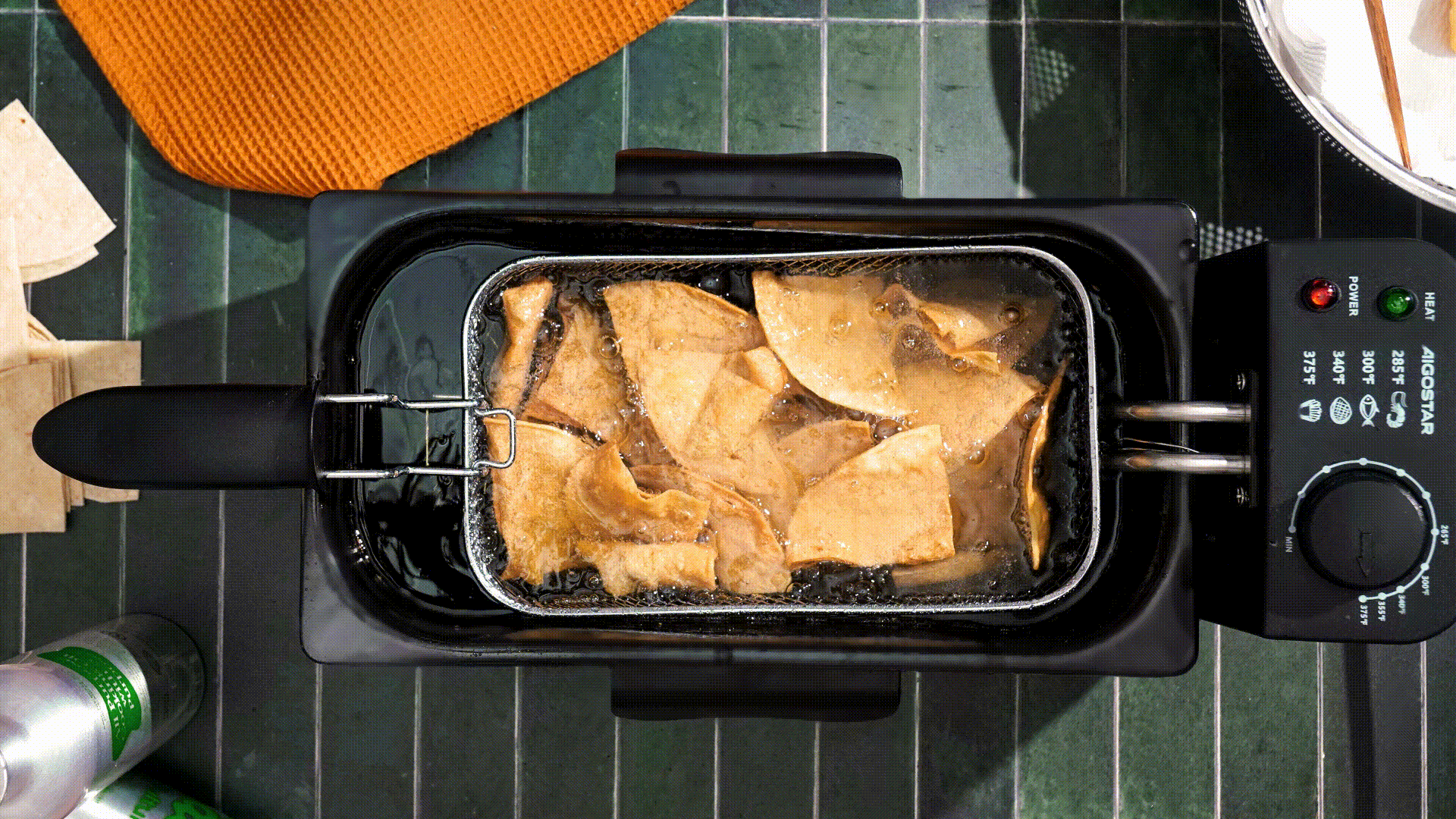 Elotes
Grilled Mexican street corn is fragrant while toasting on the grill, slathered in a creamy, cheesy, spicy sauce, then doused with fresh lime juice. In a word, mouthwatering. 
Roasted Cauliflower Tacos
For all the veggie lovers who hold steadfast to cauliflower even if it's faded from the low-carb spotlight, these vegan tacos feature aggressively seasoned, oven-caramelized cauliflower florets. Pile the cauliflower florets on to corn tortillas, top with red cabbage, sliced avocado, and smoky romesco sauce made with almonds and fire-roasted tomatoes. 
Seafood
Peach, Jalapeño, and Shrimp Ceviche
Refreshing and just right for warm May days, ceviche douses shrimp (or fish) in lime juice then gets mixed with salsa — in this case, one with diced peaches, avocado, red onion, jalapeños, and cilantro. This one comes together quickly, in just 20 minutes, so it's perfect for a last-minute quick dish. 
Lettuce-wrapped Shrimp Tacos
Emerald-green butter lettuce serves as the crisp yet yielding bed for these shrimp tacos. It's like a more nutritious mashup of the soft tortilla and hard taco shell. Marinate the shrimp in fragrant lime zest, oregano, garlic, and avocado oil for 30 minutes before baking. Drizzle the lettuce-wrapped tacos with avocado crema made with more muted onion flavor from chives and extra richness from full-fat coconut milk. 
Meat Dishes
Orange and Cumin Pork Carnitas 
This 10-ingredient carnitas recipe tenderizes pork shoulder in freshly squeezed orange and lime juice and spices until it shreds when barely poked with a fork. Slice celery root into rounds the size of small tortillas and grill or griddle until pliable, then pile the aromatic shredded pork on top.
Cheesy Gordita Crunch Wrap
This is one-too-many-margs food, no pretense or shame. It's almost like the wee-hours breakfast you'd have with your college friends before calling it a "night" at 5am. A thin egg omelet wraps around a crunchy taco shell filled with ground beef, a tangle of shredded cheese, lettuce and diced tomato. Dollop with queso because at this point, why not?
Loaded Taco Sweet Potato Sliders
More bunless burger slider than taco, the mini burger patties are seasoned with taco seasoning and chipotle powder before pan-fried. Place the beef patties on generously sliced rounds of cooked sweet potato, top with guacamole and homemade chipotle ranch dressing. Two of these sliders make a meal. 
Chipotle Chicken Wings with Avocado Crema
This sweet-and-spicy take on the classic party fave gets its smoky heat from chipotles and smoked paprika. Dates add sweet balance to the kick, and the baked chicken wings can be dipped in a cool, creamy avocado, lime, and cilantro sauce. 
Poblano Chicken Empanadas
If you fancy savory, these poblano chicken empanadas will please any palate — even kiddos, as poblanos knock gently rather than bang. Corn and buttery Oaxaca cheese add familiar comfort.
Beef Birria
Technically you can't exactly eat this with your hands (unless no one's looking) but piling a tangle of this rich, spiced, two chili-spiked slow-simmered beef on a homemade tortilla requires nothing else but a sprinkle of chopped onion, salsa de aguacate, and a few cilantro leaves if you're feeling chefy. 
Chicken Tacos
Beyond basic, these chicken tacos stuff the whole taco plate into the tortilla — refried beans, rice, guac, and tomato jalapeño salsa included. It may be simple, kid-like food, but it's a stalwart you'll make often.
No-Dairy Chicken Quesadillas
This is a grown-up version of the kids classic. Leftover shredded chicken gets topped with cashew cheese sauce and sandwiched between two cassava flour tortillas. Pan-crisp for a few minutes on both sides, cut into quarters, and pile on a platter with guac and pico de gallo on the side.
Sweet Treats
Vasos de Fruta
The fruit is incredible in Mexico — sun-kissed, honeyed, and ripe all year round. Add some kicky chili powder and tangy lime to it and you have a beloved street cart snack. Chunk or thickly julienne pineapple, mango, watermelon, jicama, and cucumbers, then stand them up, soldier-proud, in tall cups or mini mason jars. 
Pineapple Empanadas
Empanadas are the dumplings of Mexican cuisine. A buttery pastry cocoons any sweet or savory filling, gets pinched or fork-seamed closed, then can be baked or deep-fried until golden. Savor this pillowy dessert version where cinnamon-spiked pineapple gets reduced until syrupy. 
Stay up to date on new articles and recipes.
Sign up for our newsletter to get the latest on how to #EatBetterFat.